In-Person Events Are Back! How to Make the Most of Your Next One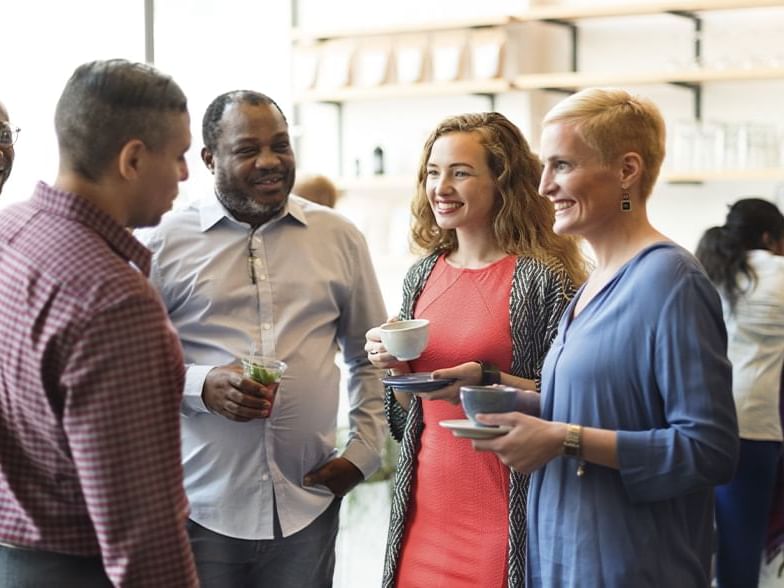 Did you miss in-person events? We sure did, and we know a lot of our clients did, too. Meetings on Zoom just aren't the same as face-to-face interactions, especially when building long-term relationships.

If you agree, you are in good company. According to Localist, three-quarters of their clients are holding in-person events this fall. Similarly, Bizzabo recently found 85% of leaders and executives identify in-person events as critical to their company's success.

Of course, it's important to take into consideration local COVID conditions and mandates before holding an event in person. Conditions are constantly changing (thanks Delta), so be sure to have a Plan B in place in case local spread and case numbers rise.

How to ensure your in-person event is a success
Besides an engaging agenda, plenty of time for networking, and a positive atmosphere, plan on adding safety precautions to ensure your in-person event is successful. An experienced meeting planner and/or venue can help you set these up.

Communicate ahead of time
Let everyone - attendees, employees, sponsors, and vendors - know what you are doing to keep everyone safe during the event. When you share the agenda, share the safety precautions too. This will go a long way in providing peace of mind.

Require pre-event COVID testing
Unless your entire event is taking place outside, keeping attendees and employees safe and healthy is critical to a successful event. Requiring a proof of a negative COVID test or vaccination test is becoming common at event check-in and is a strategy worth adopting.

Consider masks
Wearing a mask can go a long way in ensuring everyone feels comfortable. You can even turn it into a branding opportunity. Offer masks at check-in that feature your company's and/or a sponsor's logo.

Make hand sanitizer readily available
Set up hand sanitizer at check-in, information desks, and entrances to meeting rooms. You can also hand out individual containers of sanitizer or place one at each seat (yes, this is another branding opportunity!)

Arrange seating six feet apart
To arrange seat, whether it's rounds, classroom, U shape, or theater, it's helpful to create a gridded floor plan. If each grid equals six feet, you can more easily calculate how many people will comfortably (and safely) fit in each room.

Go contactless
Touchless technology is your friend. Consider incorporating touchless payment options (like Apple Pay) and mobile tickets that can be easily scanned.

Offer grab and go meals
There's more than one way to grab and go. You can work with your venue to make pre-packaged grab-and-go meals available to all attendees. Or you can set aside an hour for lunch and provide attendees with nearby quick-service dining options.

The Kellogg Conference Hotel is ready to host your next event
With 17,000 square feet of meeting space, Kellogg Conference Hotel is equipped to host a safe, spread-out event for private corporations, government agencies, and educational institutions.
Our range of large, naturally lit, and spacious rooms have you covered. The Auditorium is equipped with broadcast-ready equipment and theater-style seating, while our beautiful Ballroom can accommodate numerous seating arrangements.

Contact us today to discuss your upcoming event with our outstanding team of meeting planners.