BLACK BEAN, CHIPOTLE CAULIFLOWER, AVOCADO TACOS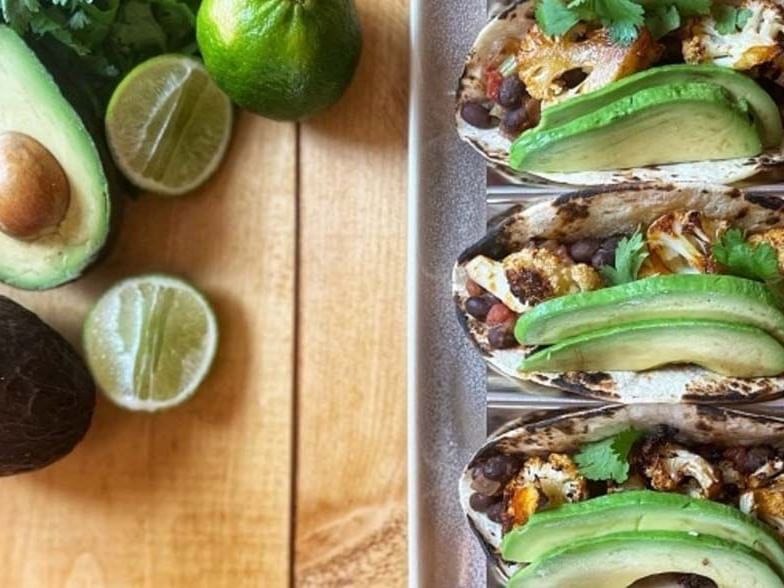 Ingredients

CUBAN BLACK BEANS
1 cup black beans, dry (can substitute 1 cup canned, rinsed beans)
1 tbsp. canola oil
1/3 cup yellow onions, diced
1/3 cup celery, diced
2 tsp ground cumin
2 tsp ground paprika
1/2 canned tomatoes, diced
2 tsp lime juice
3/4 tsp salt
1 cup vegetable broth, low sodium
CAULIFLOWER
1 tsp canola oil
2 tsp chipotle peppers, in adobo, minced
2 tsp agave nectar
2 cups cauliflower florets, cut
TACO
8 each yellow corn tortilla, 6"
1-2 each avocado, sliced
4 each lime, wedge

InstructionsServing Size: 2 tacos I Makes 8 tacos
Preparation:
Cuban Black Beans
Cover black bean with water and soak overnight.
Drain and rinse beans. Add to saucepan and cover with water; let simmer 1 hour or until tender.
Heat oil in a large pot. Add onion and celery. Cook for 5 minutes over medium heat. Add cumin, paprika, and tomatoes. Cook for another 10 minutes. Add cooked beans, lime juice, salt, and vegetable broth. Simmer additional 30 minutes.
Cauliflower
In a bowl, whisk together oil, chipotle in adobo, and agave. Toss with cauliflower.
Place on a parchment-lined sheet tray and roast at 425°F until cauliflower is caramelized and tender, about 10 minutes.
Tacos
Warm corn tortillas.
Top each corn tortilla with 1/2 cup of Cuban black beans, 1/4 cup of chipotle cauliflower, and 1-2 slices of avocado. Serve 2 tacos with 1 lime wedge.
Nutrition Info per one serving:
Calories 390, Total Fat (g) 12, Sat Fat (g) 1, Sodium (mg) 420, Protein (g) 16, Carbs (g) 58, Fiber (g) 18, Sugar (g) 5
​