BBQ CHICKEN, BLACK BEAN, SWEET POTATO BLENDED BURGERS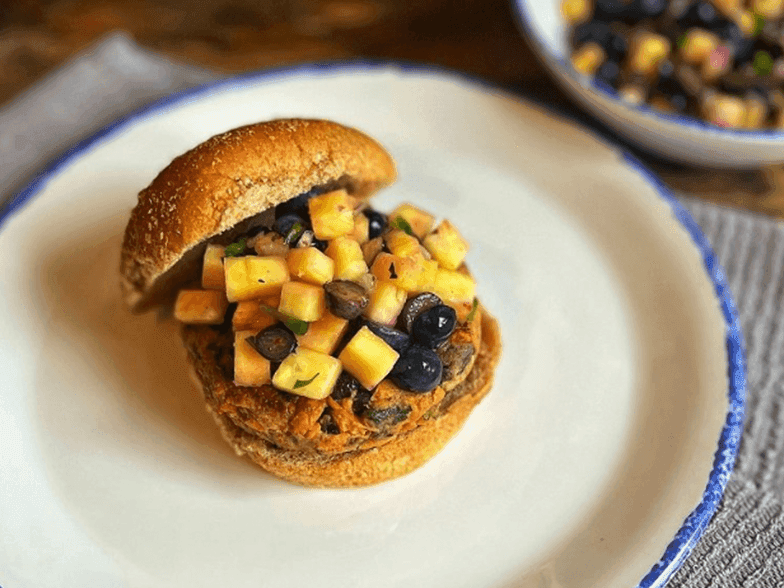 Not only will your taste buds thank you, so will your community as the seasonal ingredients for this fruit-forward salsa can all be found at your local farmer's market.
Whether you're trying to stretch your protein further or simply fit in some extra vegetables, try more of our blended burger recipes:
BBQ CHICKEN, BLACK BEAN, SWEET POTATO BLENDED BURGERS WITH BLUEBERRY PINEAPPLE SALSA
This sweet and savory burger is not only packed with flavor, but is bursting with color, fiber, and a touch of heat in every bite. An added bonus? Our blended burger is topped with a cooling blueberry pineapple salsa that provides the perfect balance to the patty's tangy BBQ spice blend.
Serving size: 1 burger | Makes 6 servings
---
Ingredients
FOR BLUEBERRY PINEAPPLE SALSA
2/3 cup blueberries
1/3 cup diced pineapple
3 TBSP finely chopped red onion
1 TBSP minced jalapeno
1 TBSP chopped cilantro
1/2 TBSP lime juice
1/4 teaspoon salt
FOR THE BURGERS
1 cup cooked black beans (if using canned, rinse and drain)
12 ounces ground chicken, 40% lean
6 ounce sweet potato, peeled and shredded
2 teaspoons brown sugar
1-1/4 teaspoon paprika
1 teaspoon chili powder
1/4 teaspoon cayenne pepper
1/4 teaspoon salt
Pinch ground black pepper
6 whole wheat hamburger buns
Instructions
Prepare blueberry pineapple salsa: In a medium bowl, combine blueberries, pineapple, red onion, jalapeno, cilantro, lime juice, and salt. Toss until evenly mixed and refrigerate.
In a large bowl, mash half of the black beans with a fork or potato masher. Add the remaining beans, ground chicken, sweet potato, brown sugar, paprika, chili powder, cayenne, salt, and pepper and mix until evenly combined. Using your hands, form into 4 oz burger patties.
Prepare a large skillet with cooking spray and place over medium heat. Sear patties on both sides until cooked through. Internal temperature should reach 165F.
Serve each burger on a whole wheat hamburger bun and top with ¼ cup of blueberry pineapple salsa.
Nutrition information per serving: 330 calories, 11g fat, 3g saturated fat, 590mg sodium, 53g carbohydrates, 7g fiber, 11g sugar, 21g protein