BAKED FALAFEL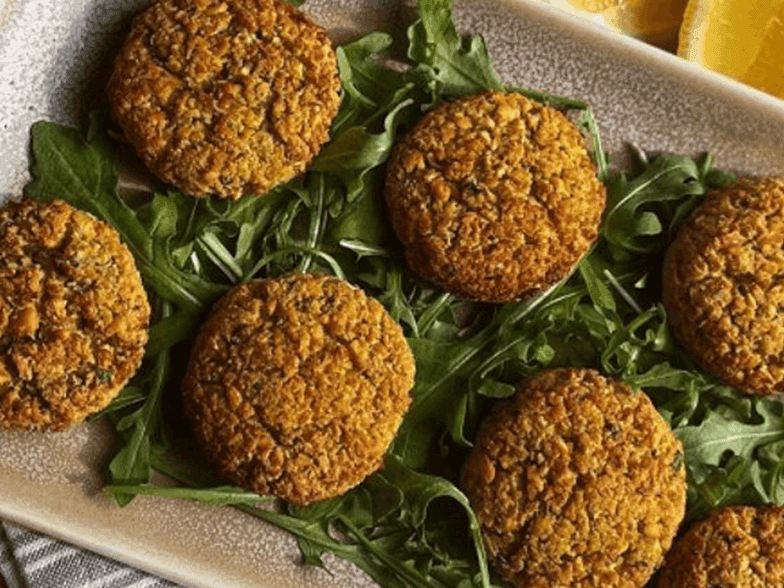 BAKED FALAFEL
Our Baked Falafel is a good vegetarian protein, high in fiber, and free of saturated fat. Plus, it's easy to make – all you need is a food processor and an oven. Stuff your finished falafel inside whole wheat pita, dip in hummus, or simply dig in with a fork. Invite some friends because our recipes makes enough to feed a family and then some!
Serving size: 4 each, makes about 20 servings
---
Ingredients
1/2 pound dry chickpeas
3 1/4 ounces yellow onion, finely chopped
1/2 ounce minced garlic
1/2 teaspoon baking powder
1 tablespoon lemon juice
1/4 ounce freshly chopped cilantro
1/4 teaspoon salt
3/4 teaspoon ground cumin
1/4 teaspoon black pepper
1/4 teaspoon cayenne pepper
Instructions
Soak garbanzo beans in water overnight, drain.
In a food processor, pulse garbanzo beans until well ground, but do not puree. Add remaining ingredients and pulse until mixture is evenly distributed and holds together when formed into a ball. Transfer to a bowl, cover and refrigerate for 1 hour.
When ready to bake, preheat oven to 350 degrees F. Prepare a sheet pan with cooking spray.
Scoop chickpea mixture into 1 ounce portions, roll into balls, and flatten slightly. Place on sheet tray and bake until golden brown, turning once, about 10-15 minutes per side.
Nutrition information per 4 falafels: 190 calories, 3 g fat, 0 g saturated fat, 155 mg sodium, 30 g carbohydrate, 6 g sugar, 4 g fiber, 10 g protein
Blog content courtesy of FLIK Hospitality – https://www.flik-usa.com/index.php?p=blog/baked-falafel