5 Ways to Get People to Come Back to Conferences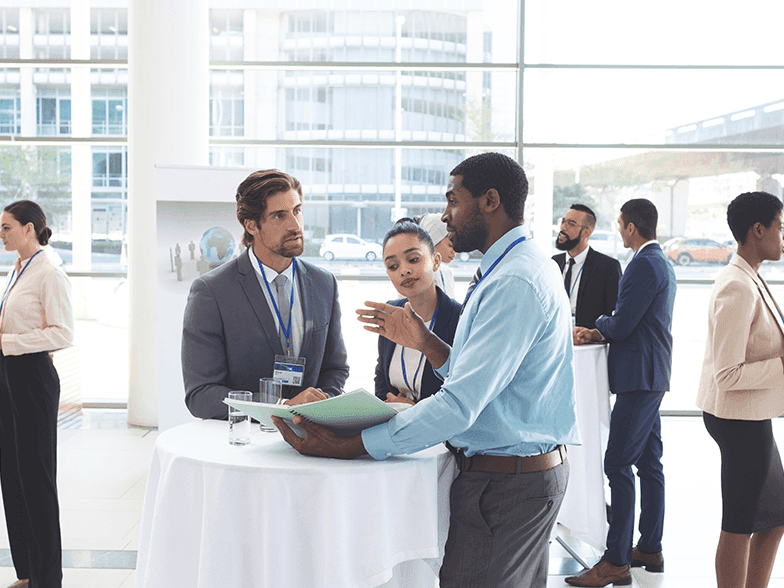 1. Focus on Safety
Even though the pandemic is technically "over," it isn't out of people's minds. Many people are avoiding events because they're concerned about getting sick. Having safety measures in place, and advertising those measures, can help reassure potential guests. Some steps to consider are: having more presentations with fewer people in each event, placing expo booths 6 feet apart from each other, holding receptions outside, and offering refunds for people who have to cancel because they have Covid. Offering refunds is risky financially, but it will reassure those coming to the event that others are not attending when they know they are sick. You may wish to offer both early bird pricing and a staggered refund schedule to encourage people to commit early.
2. Activate FOMO
FOMO, or Fear of Missing Out, is a real motivator. You may need to plan extra-special draws to get people to overcome their fear of Covid and the comfort of their sweatpants. Some ideas might include targeted, curated networking events, job fairs, exciting concerts, or VIP dinners with special guests. Smaller events may help people feel safer, so stressing the exclusivity of your event can reassure people and activate their desire to be "in the know."
3. Choose a Great Location
People don't just come to a tradeshow or conference to work. They also come to travel. Choosing an attractive but affordable location with excellent hotels and restaurants can encourage reluctant travelers. Planning your event at the beginning or end of the week so people can turn it into a mini vacation may also help.
4. Provide Affordable Options
The economy is a little iffy right now, and many companies are reluctant to go back to spending money on travel and tradeshows. Offering affordable options for day passes, hotel rooms, and food options can swing comptrollers who are reluctant to release funds.
5. Ditch (or Change) the Hybrid Option
Offering both in-person events and a virtual experience can increase overall attendance. However, hybrid offerings can make people feel like they don't have to wear grown-up shoes and
attend in person. One option is to simply not offer a virtual experience. If you feel that's too risky and want to provide a virtual experience, think of ways to make the in-person event better than the virtual option. Are there more networking or sales opportunities? The chance to win prizes or giveaways? A can't-miss concert or speaker whose presentation won't be streamed? A follow-up virtual event only open to those who attended in person? Whatever you're offering, make sure your materials stress how the in-person event is better.
Sadly, it will probably be a few years before in-person events return to pre-pandemic levels. Some people believe that might not ever happen. But, if you work to minimize risks, reassure attendees, and encourage attendance, you can still have a successful event.