4 ways to celebrate national oatmeal month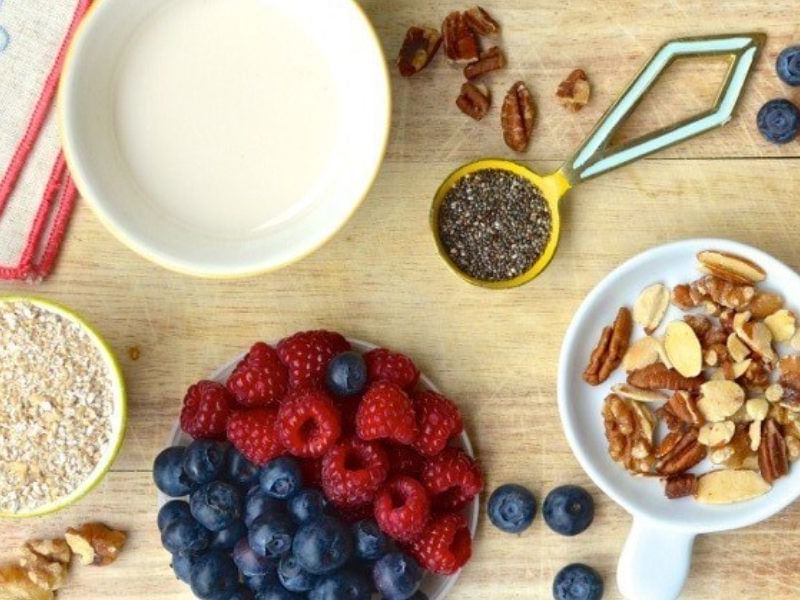 January is National Oatmeal Month - let's celebrate with a few delicious FLIK-approved recipes that star oatmeal!

Oatmeal is a comforting, nutritious pantry staple that serves as the perfect base for so many meals. Traditionally thought of as a breakfast item, we've got lunch inspiration, snack recipes, and even oatmeal-based desserts.
For Something Sweet
Skip the sugar or maple syrup on your oatmeal and top it with fresh fruit. Berries and stone fruit are delicious natural sweeteners that enhance your daily oatmeal routine.
If your mornings are hectic, try Overnight Oats. This simple preparation for oatmeal takes the guesswork out of "what's for breakfast" and serves as a great option to grab and go or eat right at your home desk without any mess.
For the Perfect Snack
Check out Chef Michelle making Pan Seared Oatmeal Flax Squares, Orange Compote. Like a granola bar, but better, these delicious bites serve as the perfect afternoon pick-me-up. Both hearty and filling, these good-for-you treats will be a household staple after just one bite.

For Something Savory
Savory whole-grain breakfasts are so in vogue and FLIK, of course, has got you covered. Our recipe packs a full serving of vegetables into each individual portion. Our recipe for Kale, Caramelized Onion, Goat Cheese Breakfast Barley packs a full serving of veggies into each individual portion. We love the flavor of almost sweet caramelized onion, tangy goat cheese, and hearty barley, simply swap out the barley in this recipe for oats and VOILA!
For Dessert
Step into Chef Nyiasia's kitchen while she creates delicious Raspberry Oatmeal Bars -- perfect for dessert, breakfast, snack, midnight snack, or really anytime. Not a fan of raspberry? Swap in your favorite flavors -- strawberry, blueberry, blackberry, apricot -- the options are endless!