10 Big Holiday Event Trends for 2021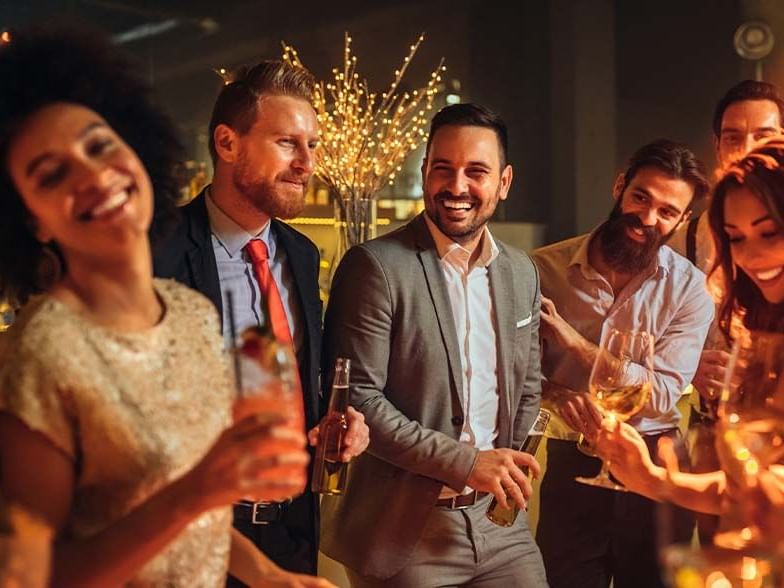 Step aside Grinch! Holiday events are back.
Of course, things look different this year than they did in 2019, but we like to think that different is better. Here are the 10 big holiday event trends for 2021 that we're most excited about:

Smaller, more intimate events
This biggest trend for holiday events in 2021 is "small" - but definitely not boring! In fact, small is being interpreted in many creative ways:
Some holiday parties are limited to 30-50 people for a more intimate, comfortable experience. Some are reducing venue capacity to 50% to allow plenty of space for mingling and conversations, but without the jostling. One of the most interesting trends is progressive parties with different events, food and drinks spread throughout the venue.
Large companies that typically fly in employees for a massive national gathering are scaling back to local events. Like "small," "local" can mean different things: parties by team, office or metro area.

Proof of vaccination
COVID numbers are constantly changing, so expect event safety guidelines to change as well. Areas with low positive test rates or daily new cases may not require proof of vaccination. However, for many events that are being held indoors, proof of vaccination will be required.

Roaring Twenties theme
The Roaring Twenties was marked by dramatic social and political change and the collective relief that the Spanish flu pandemic was largely over. People were ready to party, which definitely helps explain why a Roaring Twenties theme is so popular right now.

Over-the-top decor
Those who are relishing the chance to celebrate this year are going all out. Venue decorations will be bigger, bolder and more dramatic than ever. Think eye-popping tablescapes, maximalist decor and nontraditional color palettes.

Photo opportunities
People are excited to mark the occasion of once again celebrating with friends and colleagues in person. Forget the photo booth - fabulous holiday decor can provide a festive backdrop for selfies and group photos.

Live entertainment
Fun is the name of the game, making your entertainment choice even more important than usual. A cover band, magician, mentalist and/or comedian will keep people engaged and laughing, turning your holiday event into a truly memorable one.

Passed food
Sit-down holiday dinners are not returning to the holiday party scene - not yet, anyway. Passed hors d'oeuvres, food stations with fully composed small plates and custom bottled beverages that match the holiday theme are all on-trend this year. Cheese and charcuterie boxes are especially beautiful - and popular.

A focus on sustainability
Though sustainability is not a new trend, more and more companies are doing everything they can to keep waste to a minimum. If "real" plates, glasses and utensils aren't being used, expect to see their compostable counterparts. Also look for more seasonal, locally sourced products on the menu and recycling stations in the venue.

Giving back
Integrating a donation element to your holiday party has gone beyond collecting canned goods for a local food bank. Ask your employees what local causes they'd like to support. Hold a company-wide vote and collect donations to the two or three organizations that your employees are most dedicated to. Your company can also offer to match donations up to a certain amount.

Keep it local
There are so many wonderful local businesses to support. When curating employee gifts or "goody bags" for your holiday event party-goers, skip the massive retailers and research options right in your own backyard. (If you want to place a large order, make sure your local retailer can fulfill it first!)

Host your holiday event at the Kellogg Conference Hotel
With 17,000 square feet of meeting space, Kellogg Conference Hotel is equipped to host a smaller, more intimate event with plenty of space to spread out.

Contact us today to discuss your upcoming holiday event with our outstanding team of meeting planners.